Welcome to the leading Graphic Design Company in Bangalore!
We are your one-stop solution for all things related to graphic design. Our proficient team of designers excels in creating captivating visuals that leave a lasting impact. From innovative logo design studios to a full-fledged graphic design business, we offer the best in the industry. Our expertise extends to custom logo design, ensuring that your brand gets the unique identity it deserves. If you're searching for "graphic design companies near me," your search ends here. We take pride in being one of the best graphic design companies, with a commitment to excellence that reflects in every project we undertake.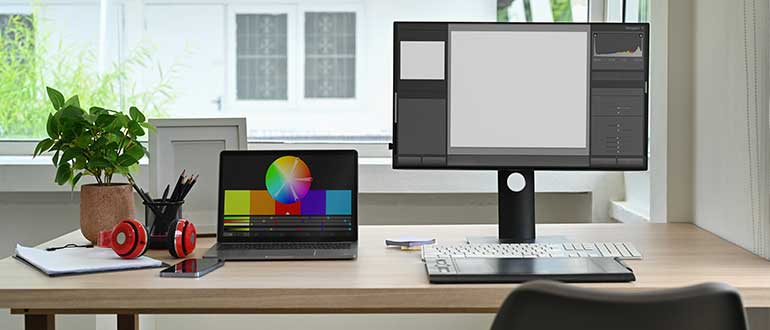 We provide specialised design solutions to fit your unique requirements because we recognise that every client is different. Our staff will work directly with you to understand your goals and provide great designs which are consistent with your brand, whether you need a bold logo, attention-grabbing brochures, attractive social media graphics, or a whole brand identity package.
Our team of seasoned graphic designers has a wealth of creative knowledge in a variety of fields and design specialties. We have a thorough understanding of design trends and concepts, from typography and colour theory to layout and composition. To make sure that your images are not only aesthetically beautiful but also strategically useful, we keep up with the newest design tools and techniques.
We respect the value of teamwork. We actively involve our clients throughout the design process and value their opinions. We really think that by cooperating, we can produce the best results. Our open lines of communication make sure that your vision is fully understood and carried out, producing designs that beyond your expectations.
We know how critical it is to meet deadlines. No matter if you have an ongoing project or major campaign with a short deadline, our staff is dedicated to producing high-quality designs on time. To ensure a seamless and timely process from initial concept to final delivery, we place a high priority on effective project management.
In our opinion, professional graphic design should be affordable for organisations and people of all sizes. Our services are affordably priced and provide exceptional value for your money. You can select the services that best meet your needs and financial constraints thanks to our straightforward pricing structures and adaptable package options.
Looking to make your business stand out? Our professional flyer design services are tailored to meet your specific needs. Whether it's a corporate event or a product launch, our flyer design captures the essence of your message in a visually appealing manner. When it comes to creative brochure design, we blend innovation with aesthetics. Our trifold brochure design not only conveys information effectively but also adds an artistic touch to your brand's narrative.
Do you have a story to tell? Our coffee table book design and layout services are here to turn your ideas into beautifully crafted books that engage readers. Meanwhile, our annual report design agency specializes in transforming data into compelling visual stories. And if you're aiming to leave a lasting impression on potential clients, our business card design and namecard design services are at your disposal. As one of the best graphic design companies, we are dedicated to bringing your vision to life with creativity and professionalism.
Contact us today to convert your ideas to beautiful scenes.